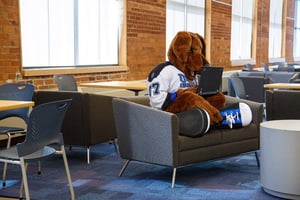 Happy Friday future Ridgebacks! It's an exciting day at Ontario Tech University: we're getting ready for our Fall Open House tomorrow! I'm taking a little break from packing up welcome bags to answer a question!
This week's question is "Do you have co-op opportunities? What is the difference between a co-op and an internship, capstone project or practicum?"
That's a great question! At Ontario Tech University, we are preparing our students for great careers in their industries! Part of our commitment is to offer fantastic experiential learning opportunities. Let's take a look at what the different options are!
Co-op
If you enrol in a program that offers co-op, you will apply to this option in your upper years of study. Minimum GPA requirements will apply. In co-op, you will do one or several work terms throughout your educational experience. Co-op students are paid by their employer.
Here's an example of how co-op is laid out in our Faculty of Science:
| | | | | | |
| --- | --- | --- | --- | --- | --- |
| | Year 1 | Year 2 | Year 3 | Year 4 | Year 5 |
| Fall | study | study | study | co-op | study |
| Winter | study | study | co-op | study | study |
| Summer | off | co-op | co-op | co-op | graduate! |
Co-ops are offered by our Faculty of Energy Systems and Nuclear Science, Faculty of Engineering and Applied Science and Faculty of Science.
Internships
Like co-op, an internship is a paid work opportunity. Internships are usually one continuous work term. At Ontario Tech University, internships range from four to sixteen months, depending on your faculty and the opportunities available. Like co-op, you will apply to the internship program during your time at Ontario Tech University and must have achieved a minimum GPA to qualify.
Internships are available in the Faculty of Business and Information Technology, Faculty of Energy Systems and Nuclear Science and Faculty of Engineering and Applied Science.
Capstone project
Capstone projects are part of all programs in the Faculty of Business and Information Technology. As a member of a student team, students study an actual organization, complete a comprehensive analysis and evaluation, and develop appropriate recommendations for improved performance by addressing a particular problem or group of problems. Students in this faculty complete either an internship or capstone project.
Practicum placement
In our Faculty of Social Science and Humanities, you will have the opportunity to participate in a practicum placement with a community organization during your fourth year of study. Placements typically take place in non-profit areas including advocacy, community development, corrections, criminal justice, education, social services, youth justice, policing, mental health, human rights, public relations, social marketing and events co-ordination.
Clinical placement
Students in some of our Faculty of Health Sciences programs have mandatory clinical placements as a degree requirement. Clinical placements are a core component in each year of the Nursing program, starting from the first year of studies.
The integration of classroom instruction and clinical practice is also the foundation of our Medical Laboratory Science program. You learn and enhance your technical and professional skills through laboratory activities in each of the three years at Ontario Tech University and gain extensive experience in fourth year during a two-semester practicum at our one of our affiliated clinical sites.
Field experience placement
All Consecutive Education students take part in several field experience placements, resulting in a minimum 80 days in classrooms working with teachers and students.
Students who pursue Concurrent Education have opportunities to participate in education seminars, visit classes and discover if a career in education is for them. When they enter the Bachelor of Education program, they too will participate in field experience placements.
Undergraduate research
All faculties have opportunities for undergraduate students to participate in research! Take what you're learning in the classroom and apply it alongside our faculty. Through research opportunities, students have been published in journals, presented at professional conferences around the world and learned from some of the leading researchers in a variety of disciplines. Talk about a great addition to your resumé!
At Ontario Tech University, experiential learning is available in 96% of our programs! We have over 300 industry and community partner organizations who offer these opportunities to our students.
Well future Ridgebacks, that's all for this week! Hope to see you at tomorrow's Open House! This week's $100 gift card winner is Brendan M. from Saugeen District Secondary School in Port Elgin! Brendan, you have until Tuesday, November 10 at noon to email futurestudent@uoit.ca and claim your prize!