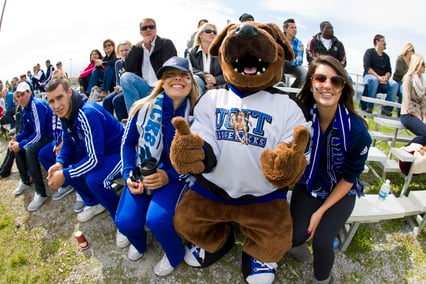 Recently, I had the opportunity to sit down and speak with our mascot, Hunter the Ridgeback. We discussed what it was like to represent Ontario Tech at sporting events, how you could represent your school as Hunter, and some of the best experiences while cheering on student-athletes at our university.How did you get the job of Hunter the Ridgeback?

I applied through the work-study program for the position with athletics.

Did you need any experience as a mascot?

I didn't need any experience as a mascot, just to be an outgoing person willing to try something new.

Are there any rules while in the costume?

The only rule is that you can't talk. Other than that you're just giving out high-fives to fans or students at events and making sure everyone is smiling and having a great time.

Which are the best sports to appear as Hunter?

There is no specific sport where it's best to be Hunter. No matter what game you go to the fans are major supporters of the Ridgebacks and are excited to cheer on Ontario Tech with Hunter.

What is the best show of school spirit you've seen from students at sporting events?

We always see amazing support for our student-athletes during the playoffs no matter what the sport. Whether it's a quarter-final soccer game or hockey playoff series, our students are out in large numbers to show their Ridgeback pride.

What's your best experience?

Every single game is amazing to be at, but there's nothing better than standing at centre ice waving our flag with the spotlight on you as the fans are screaming in anticipation for the opening puck drop of a playoff hockey game.

What's the toughest part of the job?

The toughest part of the job is always being energetic. The suit is quite warm when you get moving around, so it can be tiring. It's important to stay hydrated and take breaks so that fans always see the most energetic Hunter possible.
Those are all of the questions I was able to ask Hunter during our sit down, but I hope that the questions I asked answer any potential questions you might have about Hunter. If you are interested in being Hunter, take a look at the available Work Study positions and apply to represent Ontario Tech as Hunter.