As an undergraduate student at Ontario Tech University, research can be hugely beneficial to your university experience and academic goals. Not only will it look great on a resume or graduate school application, but it will also allow you to connect with faculty and students who have similar career goals and an array of expertise and skills to share. From studying wearable technologies at the Decimal Lab, to researching the psychology of the human brain at the Clinical Affective Neuroscience Laboratory for Discovery and Innovation (CandiLab), there is a diverse selection of undergraduate research for students to get involved in.
For Danielle Loney, a fourth-year Forensic Psychology student, undergraduate research has been an important part of her academic life. As a research assistant, lab coordinator and thesis student, Danielle has had many roles and responsibilities that have contributed to her academic and professional success.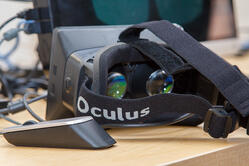 "Through the undergraduate research I have been a part of, I have made connections with the amazing faculty at our school, have had the opportunity to co-author published academic papers and was recently accepted to present a paper at an academic conference," says Danielle. Her work in undergraduate research has also given her the chance to design her own study and run experimental sessions.
"These are opportunities I would not have had if I hadn't been involved in research. Not to mention, if a student is interested in pursuing graduate school, being a part of a research team is a wonderful way to increase your chance."
While Danielle's work in undergraduate research is encouraged in her field of study, that's not to say that students in other non-research based programs won't receive the same benefits. Rebecca Smith, a fourth-year Communication student, has found her own way to make being involved in research work to her advantage.
"My research at the Decimal Lab is primarily targeted towards material that is relevant to our social media pages," says Rebecca, whose social media maintenance includes updating Twitter, Facebook and Tumblr pages, as well as all website content.
"Social media is a powerful tool with the potential to bring about social change, which is particularly important to me because I'm hoping to work in mental health advocacy in the future. As such, having a strong understanding of how social media can be optimized to make the greatest impact is important, and my work with the lab is helping me build a stronger understanding of how to make this optimization possible."
Like what you're reading? Follow Student Speak on Twitter for our latest blog updates!
While Rebecca works on honing her skills in public relations for her future in advocacy, fourth-year Communication student (and Student Speak blogger!) Dan Wells spends his time at the Decimal Lab collecting video clips and records for the lab's digital archive. New to undergraduate research, Dan has spent the past month learning the ropes and understanding the importance of digital archiving and how creative research can be.
"I have a much clearer idea of the ways that professionals and academics can use theorists' ideas to create better things," says Dan. "Theory serves as framework in class, and when I'm writing a paper or working with it in some other way it's not that I can't see the ideas at work in the real world… but it's a little bit different to see the creative process than it is to see only the finished product, and I am really enjoying being around the creativity that goes into research."
For fourth-year Forensic Psychology student Nicole Charewicz, working in undergraduate research has been the perfect first step on her way to pursuing a PhD. As a project lead in the CandiLab and honours thesis student in the Emeno Lab, Nicole's experience lays a foundation for the academic career she hopes to pursue.
"Choosing to volunteer my time in the research lab was one of the best possible decisions I could have made in my academic career. I have acquired many practical skills that are transferable to any future workplace," says Nicole. "These experiences helped solidify my passion for research, as research is the purest form of knowledge acquisition. You work so hard to create something, and then you get the chance to empirically test your theories – it's fantastic!"
While there are so many ways in which students can get involved in undergraduate research, there are also a huge variety of benefits to reap from the experiences. Whether you're perfecting your skills in communications, learning the creative processes of research or testing your own theories, all of these opportunities lead students down the perfect path for academic and future career success.