The snow is falling, bells are ringing and you are probably thinking: "how am I going to afford presents for every person on my Christmas list? There's my family, my roommates, that girl who let me borrow her laptop charger last week, the associate at Tim's who has memorized my order and starts it as soon as I get there, etc…"
If you're like me, the holiday season brings out your most thankful self and you feel the need to spoil everyone who makes a difference in your life. I get it! So, let's figure out how you can do that without breaking the bank!
Handwritten cards and letters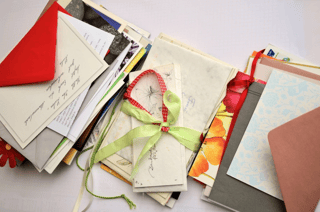 Taking out the time to write a thoughtful card or a letter to someone who has made a difference in your life truly is one of the best gifts. Nothing beats the feeling of reading a letter someone sat down to write, detailing how much of an impact you have had on them and how much better you make their life. Pop over to Walmart, pick out your favourite holiday cards and map out those people in your life who you think would best like a card! This is also great for the people you may not know too well, but want to thank! Maybe the lovely cleaning staff at your residence that you want to thank, or the IT staff who have helped you every time you lock yourself out of your laptop!
DIY
Craft it up this holiday season with some homemade gifts! When in doubt, cookies are amazing! A good friend of mine made these snowman cookies in a jar that looked like a snow globe and I still remember how happy I was to see the cute little jar (and how quickly I inhaled them because they were delicious). Cookie mix in a jar is also super cute! You essentially put all the dry ingredients in a jar and then make a little note card with instructions on what wet ingredients to add and how long to bake it for! A quick Pinterest search on DIY Christmas gifts will definitely yield some helpful ideas and Michaels always has some awesome crafting sales around the holidays!
Group Secret Santa exchange
If you and a few of your friends are interested in getting gifts for each other, consider Secret Santa! Set a price limit to make it fair, and draw names from a hat to decide who is buying for who! This limits your spending to one gift and ensures everyone gets a thoughtful gift! Better yet, have a little exchange get-together and make some cookies to celebrate the season!
Skip the gifts and spend time volunteering together
The holidays are about giving and this doesn't always mean gifts. The best present of all is your presence, so why not get together with your friends or family and choose to spend time volunteering! There are so many holiday initiatives in Ontario designed to help those in need and spread a little holiday spirit! If you are in the Durham Region, check out Feed the Need who take groups of volunteers on Thursdays to count and sort donations at the food bank. You can also have each of your friends buy a toy instead, and donate them to a children's toy drive!
There are so many options for holiday celebrations and giving thanks—what are your plans to thank the ones you love this season?