Have you ever wondered what it's like to present at an academic conference, or what even happens at these kinds of events?
Last November, Communication student Sam Bates experienced an academic conference herself when she attended the 100th annual National Communication Association Convention in Chicago, Illinois. I sat down with Sam to discuss her time there, as well as the paper she presented, aptly titled "Is it wrong to put a worm on a hook?: The ethical codes of the modern-day Catfish".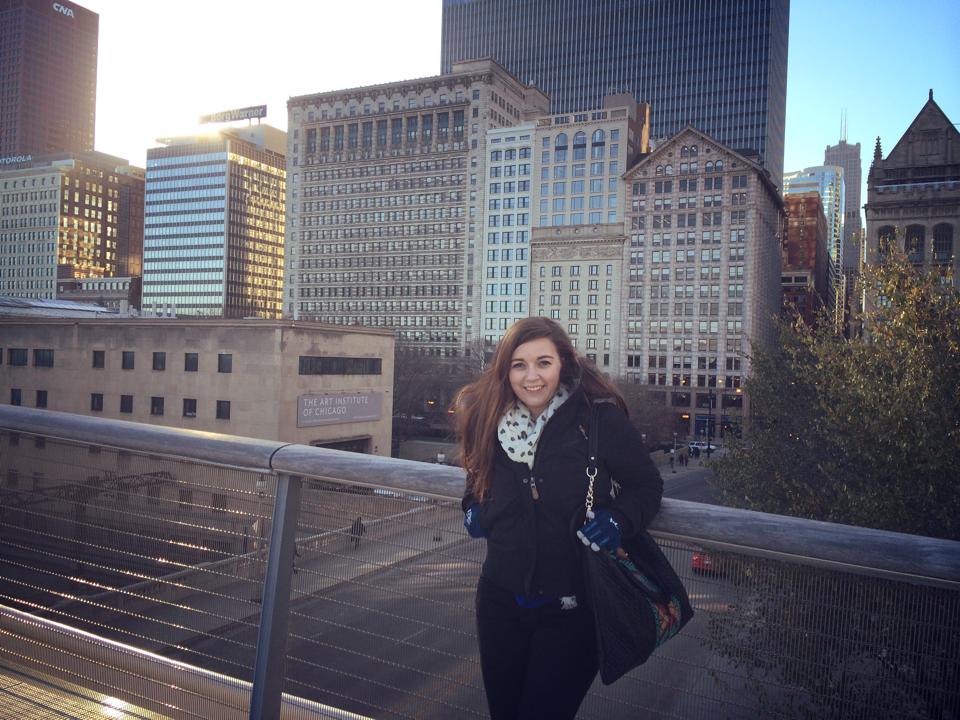 We met at Tutto and I started to ask Sam some questions over our mochas. A little humbly, she told me that she'd been accepted to the conference after submitting a paper written for Dr. Sharon Lauricella's Communication Ethics class. Dr. Lauricella had told the class that she would help the students with the highest-graded papers submit to that year's conference. Though several students submitted their work, Sam's was the only paper accepted. The paper's subject: the relatively newfangled practice of 'catfishing' online.
The popularity of the term 'catfishing' has been largely thanks to the MTV's Catfish: The TV Show. The show profiles people who think their online romantic partner may not be who they say they are, and the show's crew tries to track said person down in order to confirm their identity. Those who deceive their partners into believing they're someone they're not are termed 'catfish'. The unfortunate victims are 'catfishees'.
"So many relationships are started online." Sam told me when I asked her what inspired the subject. "It's like, if you don't find someone [to date offline] you automatically go online, you don't even think twice about it. And there are so many dating sites and apps at your fingertips."
As you'd guess from her course's title, Sam examined catfishing from an ethical perspective. "I looked at the catfish and the catfishees – the perpetrators and their victims," she explained, "and I looked into the ethics behind creating fake profiles… and also why someone would fall for them."
Her findings? A catfishee is usually victimized after accepting a random friend request from a profile with an attractive profile picture. The catfish on the other side then communicates with the catfishee in a very flirtatious way, deceiving them through false intimacy. The early self-disclosure creates a feeling of closeness, which causes the catfishee to ignore things that should make them suspicious of their new love interest.
The catfish, meanwhile, may experience what's called dissociative anonymity: the feeling that their actions online don't leave them responsible for real-world consequences. They log in, and their moral codes are gone, replaced by the morality of their assumed identity.
Using the TARES test, which evaluates ethics based on truthfulness, authenticity, respect, equitability, and social responsibility, Sam found catfishing to be unethical because it fails to achieve any of these qualities. This led her to wonder whether it's ethical of MTV to air Catfish the way it does, profiling catfishing cases which are relatively harmless in a lighthearted manner. After all, catfishing can have very harmful consequences.
Sam's paper apparently captured the zeitgeist at the NCA conference; there were three other papers on Catfish, although hers was the only one to examine the phenomenon at an ethical level. Others discussed the issues of online identity and deceptive relationships.
"I loved the whole conference" Sam reflected, "My favourite panel was on the declaration and maintenance of relationships over Facebook, because they presented so many cool findings on digital dating, and that's one of my main research interests."
And the benefits of attending academic conferences as an undergrad?
"It's really good for determining if you're in the field that you should be in… when I was there it showed me how many amazing things we can study in our program, and I was exposed to so many communication topics that I didn't even know about, because when you're doing five projects at a time each term, you don't get to see that much. But [at the conference] you can see hundreds of different papers. There were so many paper sessions to choose from, it was a real challenge just trying to plan my time!"
"I highly recommend that undergrad students submit their work to academic conferences. I feel incredibly lucky to have gone."