Hello! My name is Candice Krull and I am a Ontario Tech alumni who graduated this past year with a Bachelor of Commerce! When I was a student you could find me working in the Student Awards and Financial Aid (SAFA) office as a Junior Financial Aid Assistant. Now I'm working as an Information and Client Services Administrator with the Office of the Registrar! Since I started working with the amazing team in the SAFA and Registrar's office, I have had my eyes opened to the world of finances. There are many options when it comes to financing your education, so I would like to give you a small introduction to each.
1. First and foremost, there is the Ontario Student Assistance Program, also known as OSAP. OSAP is a combination of loans and grants offered by the government to assist students with educational costs. You can apply for OSAP online.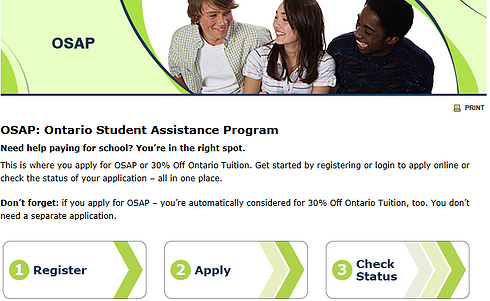 2. 30% Off Ontario Tuition Grant (OTG): Okay so it's not actually 30% of how much tuition we pay, but when it comes to financing your education, every little bit helps. Students who apply for full-time OSAP are automatically assessed for OTG, but you may also apply for OTG only, if you are not looking to apply for loans. This can also be done on the OSAP website.
3. Lines of credit: Most financial institutions offer Student Lines of Credit. These differ from regular lines of credit because you are generally only required to make interest payments while you are a full-time student. Most students will require a co-signer to be granted a line of credit, but stop by your bank and find out what options they have for you!
4. In-course scholarships: Ontario Tech has an incredible scholarship program to help assist students in paying for their schooling. In my opinion, some of the coolest scholarships Ontario Tech offers are in-course scholarships. These are scholarships automatically given to students who achieve a cumulative GPA of 3.7 or higher during the academic year. Students who maintain a 3.7 to 3.99 can be rewarded with $1,500 and students with a GPA of 4.0 and higher can receive $2,000! And thanks to our generous donors, these awards may even be increased to $3,000 and $4,000 respectively!
5. External awards are awards that students can apply for that are not affiliated with Ontario Tech or SAFA. There is a lot of money out there to assist students – you just have to find it! Some valuable websites to assist you in your search are (to name a few):
6. On-campus employment: Ontario Tech has a great on-campus employment program called University Works which offers students the opportunity to gain valuable work experience while making some extra money to help pay for school! Jobs offer a maximum of 10 working hours per week during the school year and 35 hours per week in the summer at an average rate of around $12.50 per hour. Speaking as a participant in this program, it has been one of my most rewarding experiences and I have met some amazing people.
7. Formerly called the Student Financial Profile, Ontario Tech has a General Bursary and Donor Award application available on its MyCampus website under the Ontario Tech Awards and Financial Aid tab. I encourage every student I come into contact with at work to fill this out. Completing this application allows students to apply for on-campus employment, as well as to be assessed for donor awards and bursaries based on the resources they have versus their expenses throughout the year. The application deadline for the General Bursary and Donor Award Application is always sometime in October, so make sure you apply before that.
8. Financial Literacy Workshops: SAFA offers workshops that allow students to improve their knowledge of financing their education and receive more in-depth information about many of the topics I've listed here. Workshops are held throughout the year.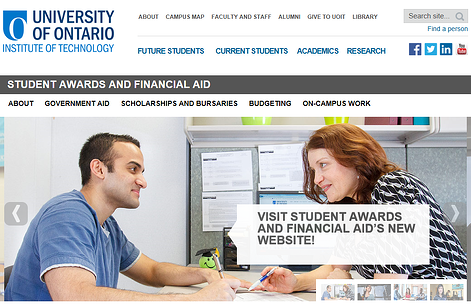 9. It's not as confusing as it all seems! That is the number one thing students don't know about Financial Aid! I may be biased, but trust me, I was there once – coming to university for the first time, trying to determine the difference between a scholarship, a bursary and a grant. If there is one thing you take away from this, it's that we are here to help you! Step into the Student Awards and Financial Aid office located in the SIRC building at our north location and at 61 Charles Street in Room 136 in the Library. Be aware that seeing someone at the downtown office is by appointment only.
For more details on financial aid, visit the SAFA website!