It's October, the leaves are changing colour and all of a sudden everyone loves pumpkin spice again. Most importantly, Halloween is coming and I'm busting out my pirate costume once again. I personally love Halloween and would prefer it be a lifestyle as opposed to a holiday. The winter holiday decorations sneaking into the stores right now really have no right because it's time to get spooky!
If you're not already attending university, you will soon face the reality of something called 'living on a budget.' So, for those of us who can't afford the luxury costumes of the Kardashian clan here are 10 cheap and easy costume ideas to scream in this spooky holiday!
Welcome to the Wild West
Want to be a cowboy on a budget? Now's your chance. The nice thing about this look is that the only piece you probably don't have hanging around the house is a cowboy hat. You can really take some creative liberty with this one but here are a few pointers to get you up on that horse.
The first step is to build the basic outfit. Throw on a plaid or button-down shirt, tuck it into some baggy jeans and tie it together with a chunky belt (bonus points if you have some of those fancy buckles). Tie a bandanna around your neck and wrap a few loops of any rope you can find to your belt for good measure. Stop by any Halloween or dollar store to grab a cheap cowboy hat and you're ready to round up some bandits.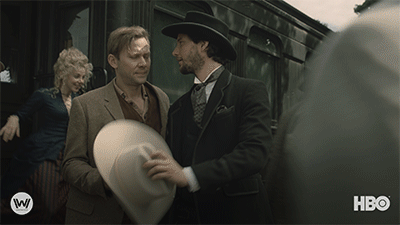 Via Giphy
Toga party
This is a timeless Halloween classic that is easy to do when you're short on time and patience.
Grab a white sheet, one that you don't use anymore is preferable so that you can cut it if it's too long. Hold the sheet by one corner vertically just over your shoulder. Pull the side of the sheet opposite of that shoulder around the chest and back. Next, continue to wrap it a second time around the rib cage and stop in the middle of the back. Take the end corner of the sheet in the back and tie it at the shoulder to the original corner you started with.
Be creative to finish off the look. Add a piece of slim rope as a belt, gladiator sandals, a boho style headband and you're ready to go.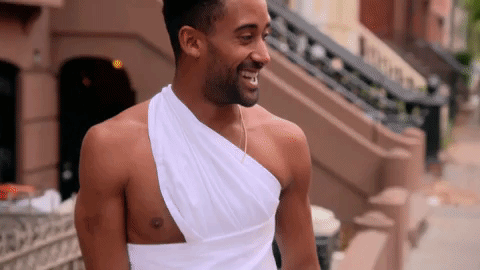 Pop art make-up

The pop art look is cheap, easy and not gender-specific. Even better, it looks like you actually put some serious effort in. All you need to get this look is some face paint or a Halloween makeup kit you can pick up for a few bucks at your local drugstore.
Start by grabbing any black paint (even a soft eyeliner would work) and use a thin brush to outline your face. Trace thin black lines around the bone structure of your face: the chin, cheekbones, nose, forehead and lips. Following this, apply small circles of paint around these outlined areas for a subtle effect or all over the face for more of a 'pop.' This can really be done using any colour but the most popular of the looks use either red, white or black. To really finish off the look, spice it up with a bold brow and lip, glam eye or even some fake teardrops.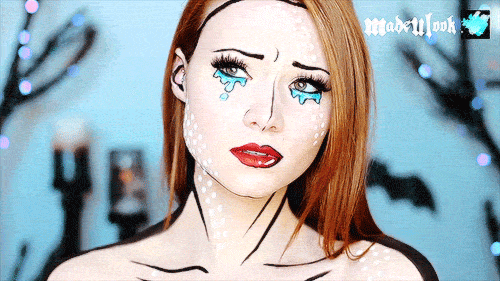 The mermaid
You probably saw this look everywhere last year but it's still a pretty cool Halloween idea. Follow these tips for a simple, cheap and easy look.
Grab some shimmery or pastel eye-shadow you got back when you were a teen with no idea how to do make-up and a fishnet stocking. Hold the netting up to your face and use a make-up brush to pat the coloured powder over it and onto the skin. Do this specifically targeting the edges of the forehead, cheekbones and chin. Feel free to layer colours for a more pronounced effect. Remove the stocking to reveal a mermaid scale-like effect. What you do next is up to you, continue with a pastel eye and lip look or go all out with some mermaid accessories for your hair and outfit.

Pennywise the Clown

With the recent release of the IT reboot last year, there is no better time to channel your inner clown.
Stop by your local drugstore and grab a face paint kit with three key colours: red, white, black. Start by applying a full white base to your entire face and neck. Using a slim brush, paint a curved red line from the corner of the mouth, around the middle of the cheek, up to the eyelid and through the brow (repeat on the other side).
Next, use a small sponge to dab black paint lightly around the eyes and finish it off with some liner or dark mascara to really make the eyes stand out. Fill in your brows or even re-draw them thin, black and arched. Add some red lipstick, a red nose and you are ready to go float in the sewer drains.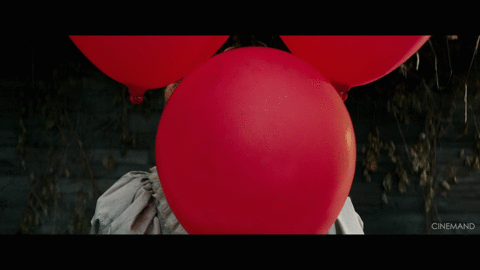 Face decals
If you're not feeling the brush and paint method, try some simple face decals for an easy look.
Stop by your local Halloween store and you are bound to find a number of cheap styles for a number of different characters and themes. Go for a simple cobweb design or more intricate full-face sugar skull. Check out Spirit Halloween for some decal options, their store is open at the Oshawa Centre!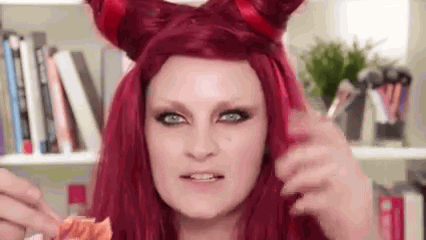 Sports fan
Going a little overboard with your favourite team's sport memorabilia doesn't have to be reserved for game day. Throw on your favourite Blue Jays jersey or even your own hockey uniform. Spice the look up with some matching face paint and baseball cap or helmet. Be creative and have fun with it!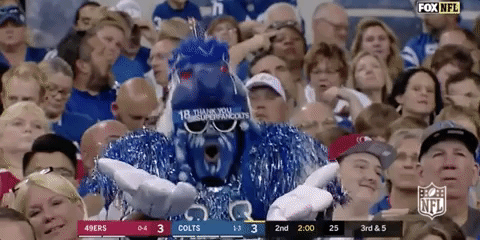 DIY skeleton
No costume ideas? Just dress as who you really are deep inside: a skeleton! All you need for this look is a fitted white t-shirt and loose black one that you aren't afraid to cut up.
With some chalk or a white crayon, trace the outline of flat horizontal ovals down each side of the black shirt in the general rib cage area. Cut these strips out of the shirt along with one at the top centre of the shirt (just under the neck). Put this shirt on over the white shirt to create the illusion of a skeleton. Apply some white face paint and black shadowing around the eyes and mouth to complete the look!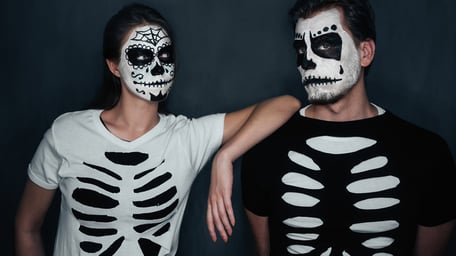 Via Google Images
Pajama party
This one is really easy and great to do with a group of friends. It's also relatively cheap considering you should already have great costume ideas at home.
Simply head out with your friends decked head to toe in your comfiest, fluffiest and sleepiest pajama sets! Be bold, wear that over-sized unicorn onesie you got as a gift last year! Finish it off with some fancy slippers and even a pillow to accessorize.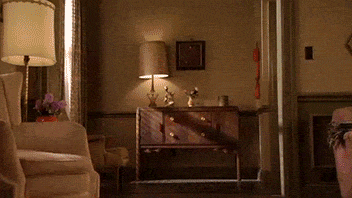 Via Giphy
Welcome to the zoo
Here is another easy and cheap group costume idea. Stop by your local Halloween store or anywhere that sells Halloween stuff and you are bound to find some cheap animal accessories like ear headbands.
For each person in the group, pick up a cheap animal accessory such as cat or mouse ears. Match these pieces to the colour of your top for a bigger impact! Finally, you can go the extra mile by picking up some face paint and adding features such as whiskers or a black nose.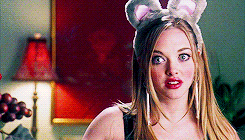 Via Giphy
Well, there you have it. A lovely compilation of costume ideas to rock this year, that in all actuality probably cost less than what we spend on Starbucks every week. Obviously, there is no way I could cover every cheap costume idea in this blog or it would never end. That's where you come in! Share your costume ideas in the comment section below and you might just inspire some fellow peers to go out this Halloween!